Guide For Various Butterfly Dress For Various Occasions
Butterflies are the most gorgeous creatures on earth. No lie in that. Being beautiful, they are obviously taken as an inspiration in the fashion industry. They are not just made into skirts, tops, blouses and pants, but also dresses! How exciting is that! Wearing a cute little butterfly dress can get all the eyes onto you. But the issue is about the styling. Sometimes wearing the dress itself is not enough. A little bit of spice to the outfit just does magic. A boring outfit can look stunning on any woman with a tiny bit of styling. It helps in accentuating the look. Similarly, here are a few tips on how to style a particular butterfly dress to look more stunning!
Butterfly Cottagecore Dress For Delicacy
Girly girls absolutely love cottagecore! The aesthetic has such a relaxing vibe to it. Young women who are into cottagecore can actually achieve the aesthetic by dressing up as such. A beautiful mini butterfly print dress can instantly give off cottagecore vibes. Pair a mini butterfly print dress with ruffles and puffed sleeves with rose pink ballerina shoes. Additionally a basket handbag can look ravishing upon the arms. Cottagecore is not just about the dress but also about the hair. Make sure to have a light colored and light printed head scarf or a bandana to look more elegant!
Butterfly Dress To Be A Showstopper For Prom
Butterflies can also look stunning when you are searching for that one perfect prom dress. Butterflies suggest youth and liberty. Dazzle that gold prom dress by adding a few butterfly fabric stickers onto the dress around the bust area continuing all the way upto one shoulder.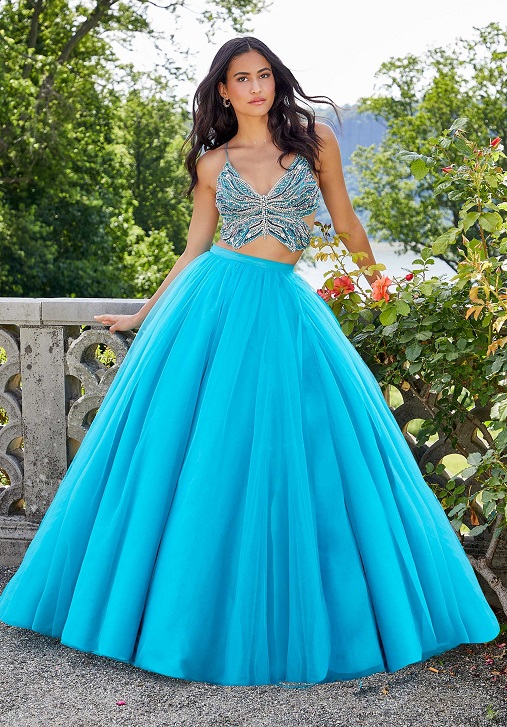 Feel free to go a bit bottom onto the dress as well. This idea works well if the dress has a corset finish. This butterfly dress can not only be worn to prom but also to ballroom fancy events. It can be such a showstopper if paired with sparkly heels or silver heels. Wear your hair up or onto one side to show off the straps of butterflies or the off shoulder.
A Perfect Choice Of A Dress For A Cocktail Party
What is better than a glittery butterfly maxi dress to a cocktail party? A butterfly cocktail maxi dresses have butterfly designs on the front and back of the dresses. A layer of a complimentary color to the butterflies goes underneath them as in a skirt. Slits can be provided at both the sides to show off the sizzling side of the legs of the amazingly made dress. Pair the dress with some gold or beige ankle strap heels. As the center of attention is the dress, it is better to go easy with the accessories, hair and makeup. Add a little bracelet of gold and maybe gold studs of two for the earrings. It does picture an art of butterfly aesthetic.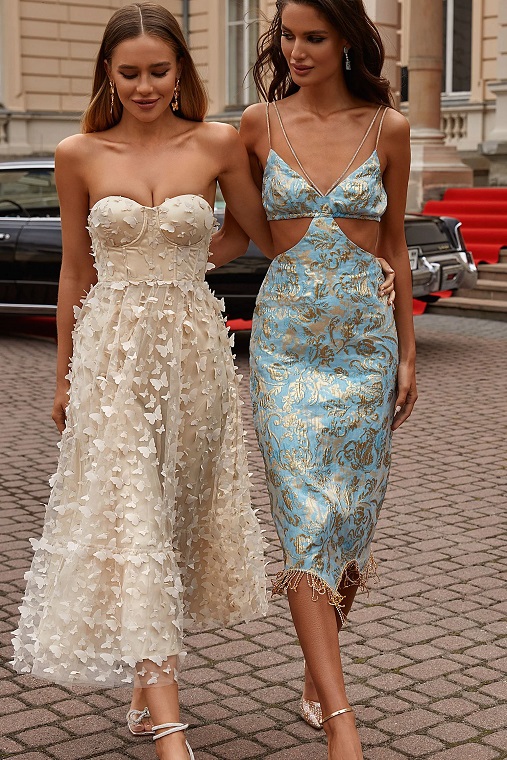 This dress is ideal for summer and if you think you are going to feel a tad bit chilly then do not forget to carry a jacket along with you!
Also Read: Wow Nails | Light Blue Acrylic Nails | White Tip Nails